Max T. Wills LHG
Senior Hydrogeologist
Max has over 22 years of professional experience and a strong background in both environmental hydrogeology and groundwater resource evaluations. He possesses an extensive knowledge of Pacific Northwest geology and surface water hydrology. He is responsible for collection and interpretation of geologic and hydrogeologic data, preparation of technical reports, Phase I and II Environmental Assessments, remediation and groundwater monitoring projects, and supervision of well drilling and testing projects. Max is knowledgeable about computer modeling, analysis of complex datasets, and the application of database technologies for the organization and manipulation of hydrogeologic data. Max is a Licensed Hydrogeologist in Washington State.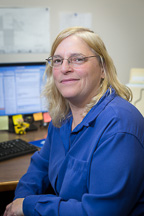 Barb A. Gallagher PE CESCL

Senior Engineer
Barb is a Senior Engineer with over 15 years of professional geotechnical engineering experience in Washington State, as well as several years of construction experience on projects ranging from landfills to high-rise buildings. Her work in the Pacific Northwest includes a variety of commercial, industrial, municipal and residential projects. Barb's design experience includes embankments, retaining walls, pavements and shallow and deep foundations. She has developed and implemented subsurface investigation and testing programs to evaluate soil and groundwater conditions with regard to foundation design and infiltration characteristics. Barb is also a Certified Erosion and Sediment Control Lead (CESCL).
Kari A. Thomas LG

Project Geologist
Kari is a Licensed Geologist in Washington State with over nine years of experience in the geotechnical engineering, industrial hygiene, materials, and environmental consulting fields. She is an experienced field team leader and field health and safety coordinator. Her work experience and formal education includes groundwater and soil sampling, Phase I and Phase II Environmental Site Assessments, geotechnical and environmental drilling, asbestos and hazardous material building surveys, hazardous materials abatement oversight, indoor air quality and mold assessments, well installation, and construction monitoring. Kari also has experience working with wetlands management including groundwater elevation surveys, stream/channel flow, and sediment-loading studies.
John H. Anderson EIT CESCL
Staff Engineer
John is a Staff Engineer and licensed Certified Erosion and Sediment Control Lead (CESCL). As a geotechnical engineering intern with Seattle Public Utilities, he gained a wide range of experience with permitting, field reconnaissance, laboratory testing, and contractor coordination. John's work in the construction industry provided complementary hands-on experience with foundation reinforcements, drainage, and the interpretation of building drawings and specifications. He performs a wide array of geotechnical investigations and reconnaissance (test pits, borings, subgrade evaluations) as well as in situ (nuclear densometer testing, dynamic cone penetrometer) and laboratory testing (Proctor compaction, sieve analysis, Atterberg limits, moisture density, etc.) of soil.